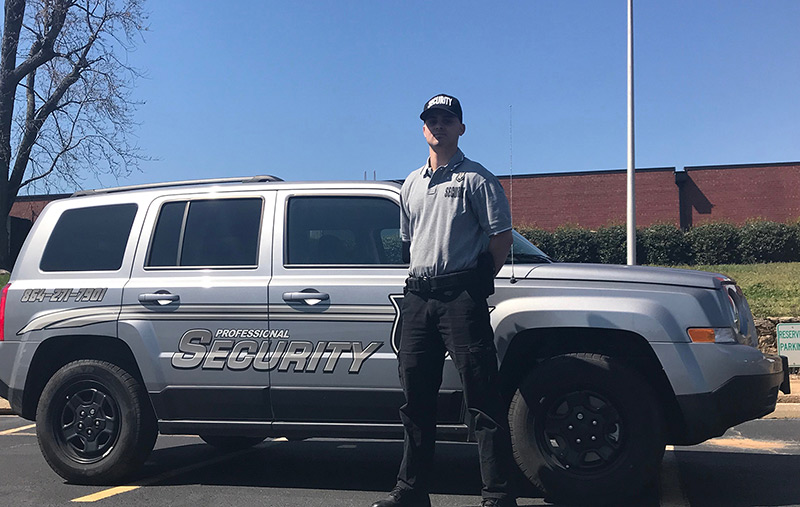 Your Private
Security Specialists



AP Professional Security Officer Service is a SLED licensed, bonded and insured company dedicated to providing professional, high-quality, security services.
Why hire AP Professional Security? Our policies help attract and maintain the highest-qualified workforce in the industry.
Why choose a local security company?
---
Anthony Proietta is a graduate of the SC Criminal Justice Academy and has attended multiple advanced law enforcement, security and investigative schools specific to SC law since 1991. 
Our company is locally owned and operated. 
Anthony Proietta is hands on in every aspect of our services. 
Your questions and concerns will be immediately addressed by a real person not an impersonal multi-national corporation. 
We hire only the most competent individuals with high moral character in order to provide you with the finest in private security services. All our security officers undergo an in-depth in-house background investigation and are licensed and registered though S.L.E.D. Anthony ensures that all officers are highly trained so you can be assured that you have the best private security available.
We service every corner of South Carolina:
In the Upstate of South Carolina:
Greenville, Spartanburg, Cherokee, Anderson, Pickens, Laurens counties and surrounding areas.
Columbia area: Midlands counties of Richland, Lexington, Calhoun, Fairfield, Orangeburg, Newberry, Kershaw, Chesterfield, Lancaster, Saluda, Aiken, Edgefield, Chester, York, Union, McCormick, Greenwood, Abbeville, Barnwell, Bamberg, Sumter and Allendale.
Lowcountry Charleston and Myrtle Beach areas: Horry, Florence, Georgetown, Dillon, Marion, Williamsburg, Marlboro, Darlington, Lee, Clarendon, Charleston, Berkeley, Dorchester, Colleton, Beaufort, Jasper and Hampton counties.
We have been using AP Professional Security for over two years to protect our property. The offers assigned here are professional and well trained. We are very pleased with the services provided to us."

- Capt. Andy Syska
Operations Manager
The Big M Casino, Inc.

We have used AP Security for security work on several occasions. They have performed security work at our cattle farm, our office and shop as well as our home. Ronald Failor, Security Manager and his employees have always been prompt, courteous and very easy to work with. They do good work and we highly recommend them for your security needs.

Randy & Beverly Reeves
Circle R Farms

Tim Moore and AP Security have provided security services for our company's clients for many years... AP Security performs to the highest of standards. The guards are appropriately attired with obvious training and proper protocol in place...Importantly, the owners of the company are always accessible when we've felt the desire to contact them. AP Security is a professional, experienced, reliable, "hands-on" security company.

-Lisa A. Johansen, President
Pinnacle Real Estate Management, LLC

Every employee that I have had dealings with at AP Professional Security, LLC has been fantastic to work with and quick to respond to requests. The initial estimate and account set-up process was fast and easy with a lot of flexibility in scheduling. The security officer assigned to us is friendly, dependable and extremely conscientious about the responsibility of his position. AP Professional Security, LLC definitely lives up to their name with the highest level of professionalism delivered.

- Laura McLellan, Administrative Specialist
City of Isle of Palms

We would like to thank you for your services; the Security professionals you have on our property are just that.... professionals. They do a good job. I am an owner for 18 yrs at this condo complex and this is the FIRST reliable, caring, common sense, not afraid to do the job, group of security guards we have ever had. Keep up the good work, we are so glad to have you here.

- Ocean Forest Villas

Awesome Service! I've been using this company for security since 2015. They are always accommodating and surpass my expectations. Many times I have called for service on short notice, and AP Professional will work a miracle to get the coverage I need. The rates are very reasonable and service is always reliable, on-time and professional.

Rhonda Watson, Director of Operations
Student Watchers
JOIN OUR TEAM

Our employees are paid competitive wages.
Employment includes on-the-job training, SLED training and registration fee assistance,
CPR and AED certifications as needed, flexible scheduling, company uniforms,
and major medical, dental, vision, accident and cancer insurance.


© Copyright AP Professional Security, LLC. All Rights Reserved.